Clubhead Comparison: Titleist 716 AP1 vs. 716 AP2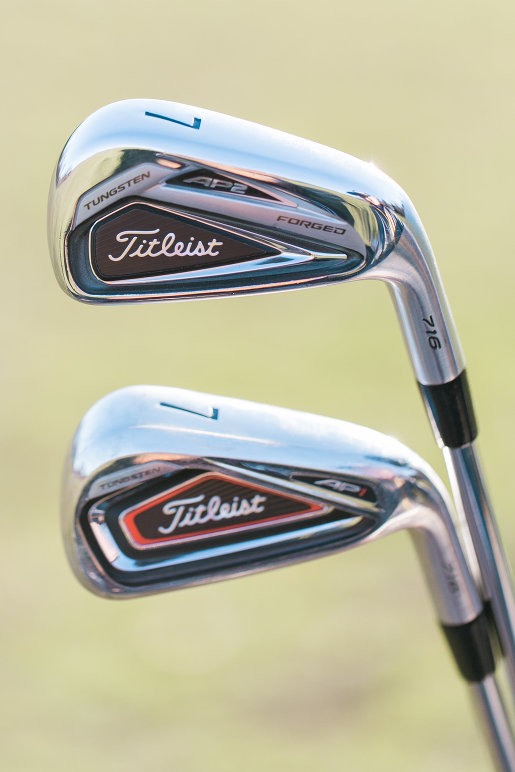 Why Do This Test:
The Advanced Performance (AP) line of Titleist irons, with the current 716 models being the 5th generation, has been extremely popular since their inception in 2008. Golfers in the 5-15 handicap range are frequently unsure which model better suits them. The purpose of this test is to describe the true feature and benefits of each model, and to present the real world performance differences. After reading this post you such be well equipped to make the proper buying decision whether it is the Titleist 716 AP1 or AP2.
Clubs Used/Specs: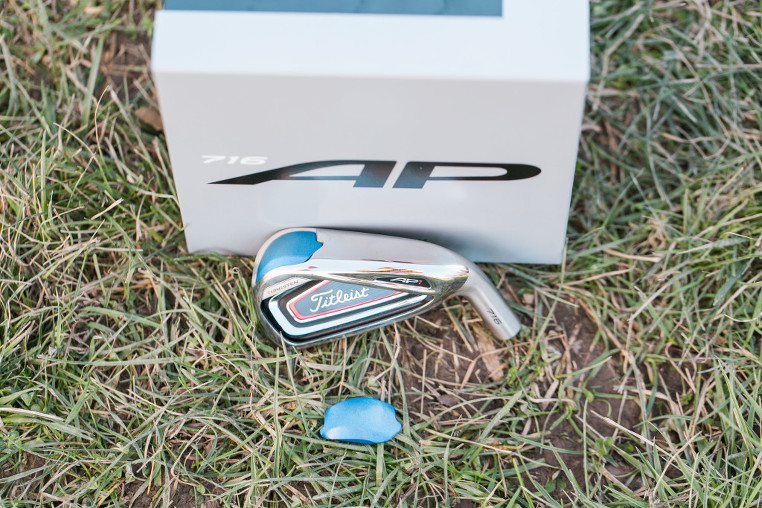 This is an under the hood look at the 716 AP1 that shows the tungsten weight. There is an average of 42.5 grams per head. This high density tungsten lowers the Center of Gravity and increases MOI.
Club 2: Titleist 716 AP2 7 iron, Dynamic Gold AMT S300 shaft, all specs standard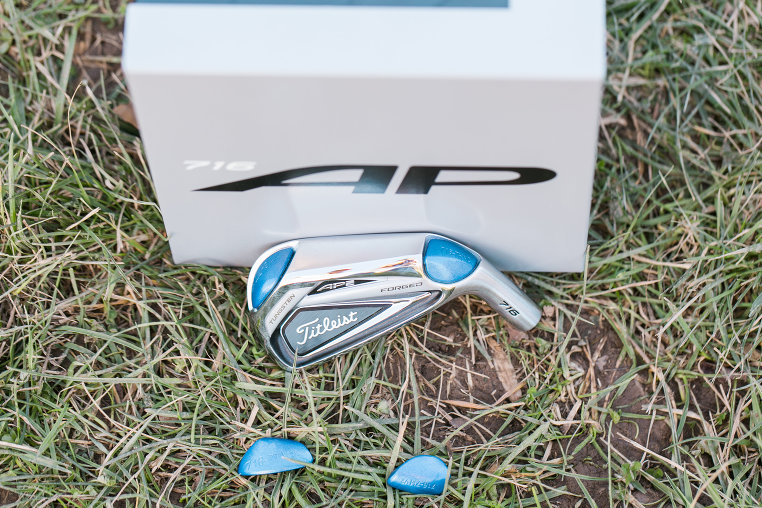 The blue weights in the 716 AP2 weigh on average a combined 56.2 grams per club. This plays a huge role in making this iron the industry leader in MOI for its category.
Golf Ball: Titleist ProV1x
Launch monitor: Foresight GC2
The Numbers:
716 AP1
716 AP2
The Results:
Ball Speed: AP1: 5 mph faster
Launch Angle: AP2: 2.4* higher
Spin Rate: AP2: 525 rpm more
Carry Distance: AP1: 10 yds longer
Ball Speed Standard Deviation: AP1: 1.815, AP2: 2.615, AP1: 31% tighter
Ball Speed Range: AP1: 4 mph tighter
Carry Distance Standard Deviation: AP1: 2.111, AP2: 3.240, AP1: 35% tighter
Carry Distance Range: AP1: 2 yds tighter
Explanation:
When comparing Titleist 716 AP1, 716 AP2, in a nut shell, the AP1 flew further, lower, with less spin, and the Standard Deviation for ball speed and carry distance was significantly tighter compared to the AP2. More consistent ball speeds and carry distances are the key to improving your iron game, hitting more greens, and having shorter birdie/par putts.
Standard Deviation is the average variance (or difference) from the mean for a set of data points. The lower the Standard Deviation (SD) the closer that data point was to the mean, which is our goal. Whether we are looking at Ball Speed or Carry Distance, the smaller the number the tighter the dispersion… which is a very good thing in golf. The term MOI is mentioned quite often when describing or comparing golf clubs. As many of you probably know at this point, MOI, or Moment of Inertia is the clubs ability to resist twisting. Most people look at a high MOI to aid in getting the golf ball to fly straight and towards your intended target, but the primary benefit shows up in maximum distance on mishits. All too often golf clubs are purchased because Club A went a few yards further than Club B during trial, but what is too easily overlooked is how short the mishits flew. This is why I find it vital to access the SD when comparing the performance of golf clubs. The tighter the SD of ball speed and carry distance for a particular club, the closer your golf ball will be, on average, to your intended target. This is the key to shorter birdie putts and lower scores, not trying to squeeze a few more yards out of your clubs.
Which Club Should You Go With:
AP1:
You are looking for maximum distance and/or maximum forgiveness.
Rarely attempt to shape the ball around objects or towards targets.
Have a steep angle of attack and a wider sole will assist with heavy shots.
Feel/feedback isn't the first priority in choosing an iron.
AP2:
You are looking for an industry leading MOI in a players iron.
Prefer a Forged Iron.
A traditional blade size and profile is of high importance.
You are skilled enough and look to shape the ball on a consistent basis.
You are looking for more feedback on center strikes as well as mishits.
Thank you for reading. Please comment below and tell me what clubs/ shafts/ balls you would like to be tested head to head.I will choose the most popular requests and post results ASAP.
---
Comments:
Enjoyed every bit of your forum topic.Much thanks again. Really Cool. BondaWilliam Lip
Hi my friend! I want to say that this post is amazing, great written and include almost all significant infos. I'd like to see more posts like this. BeamesderferValariemymn
Thank you Beam, I have some great things coming this fall/ winter. Please stay tuned!DanK